Cross-rc Crawling kit – Demon SG4-A 1/10
Ref: CRO90100045
High quality construction kit for a 1:10 scale crawler, the Demon range from Cross RC sets a new standard in performances and durability. The Demon SG-4 is really a must in the climbing art. 3 versions are available with differents levels of equipments. Note : the motor is not included.
Notes : Pictures may show equipments that are not available in all variants. Please, look at the table to have the exact list of included equipments.
This is a build kit, pictures shows the assembled and painted model.
Belangrijke eigenschappen
| | |
| --- | --- |
| Model | DEMON SG4 A |
| Body | Integrated injection molding |
| Front face | 4 x round lamps, Bar grille |
| Lightting | Integrated high power |
| Front bumper | Athletics type |
| Winch | Plastic simulation |
| Trailer shackle | ABS |
| Engine decoration board | Yes |
| Simulation Snokle | No |
| Cab interior | Yes |
| Cab anti roll rack | No |
| Car door guardrail | Metal |
| Side bars (pedals) | Metal |
| Anti slide plate of rear tube frame | Metal |
| Rear frame | Metal |
| Gearbox housing | Nylon shell + stell gear |
| Transfer case housing | Nylon shell + stell gear |
| Transfer case integral floor plate | Metal |
| Front & Rear drive shaft | Metal |
| Reverse transmission function | Yes |
| Bulb | Metal |
| Shock absorber | Metal Coilover |
| Axle | G2 axle – Nylon axle shell |
| Axle gear | Stainless steel powder metallurgy gear |
| HUB | Metal |
| Wheel hub | ABS |
| Tyre | Black rock   115/45R1.9 |
| Double segment inner tube | No |
Specificaties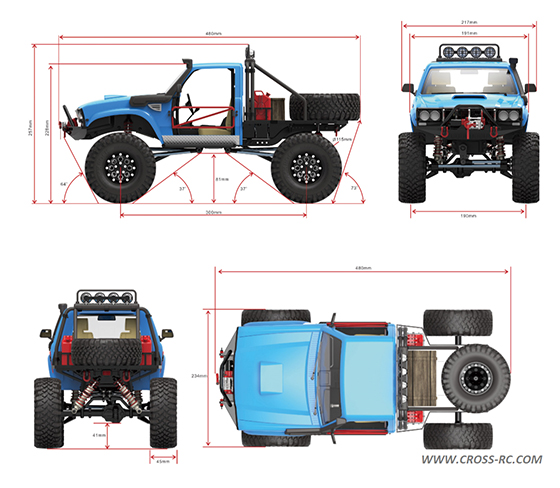 Wat nodig is om aan te vervolledigen
Steering servo
Receiver
Transmitter (4 channel suggested)
Brushed or brushless motor
ESC
Battery