SKYRC T100 Duo AC Charger (LiPo 2-4s up to 5A – 2x50w)
Ref: SKY100162
Multi-purpose for Most Chemistries With

Generic XT60
SkyRC T100 is a twin-channel charger with two independent circuits which can charge batteries of varying chemistries (LiPo / LiFe / Lilon / LiHV / NiMH / NiCd / Pb) simultaneously. Its sleek design allows easy front-loading plug-in convenience of balancing and XT60 ports. It is not only compact in size but also powerful in output with maximum 100W charging power and 5A charging current which makes charging more sufficient. With the new AGM and cold charge modes, the user is free to charge their PB and AGM batteries in
cold days.
Twin-channel Charger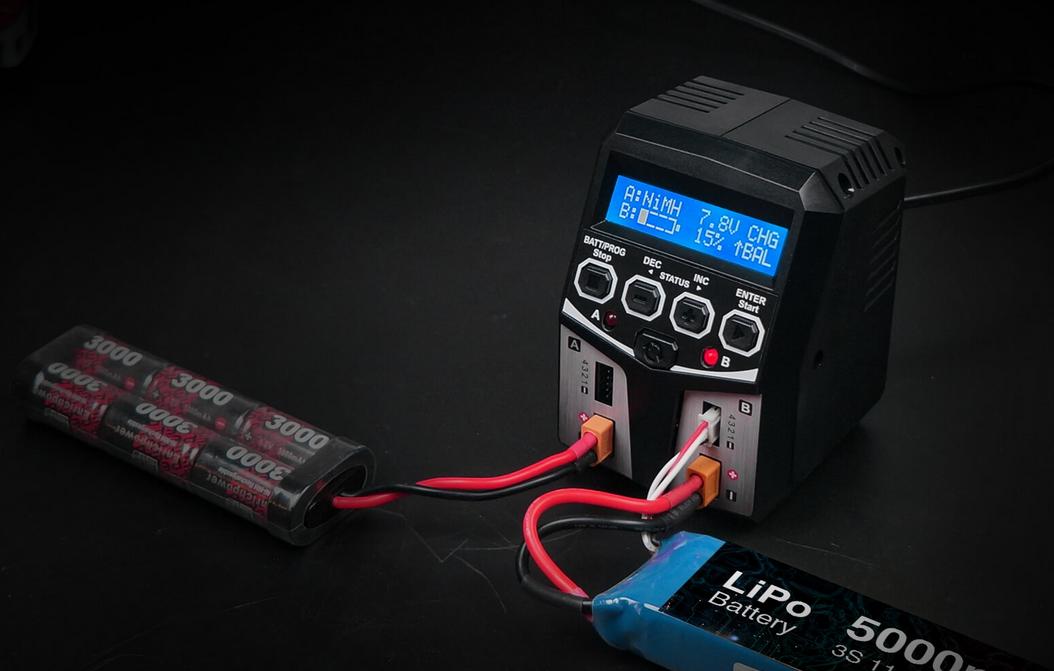 SkyRC T100 allows you to plug 2 batteries into one charger simultaneously, and it will intelligently and automatically initiate the charging of 2 batteries at once to their maximum capacity. To top it all, the batteries being charged do not even need to have the same configuration. You can connect different chemistry(NiMH / NiCd / LiPo / LiFe / Lilon / LiHV / Pb)batteries into any of the
charging ports.
Higher Accuracy with Three Decimals for Battery Voltage
The charger firmware is highly optimized by displaying the battery voltage with three decimals during the process of charging & battery voltage measuring.
Battery Icon & Percentage of Charge & Discharge Display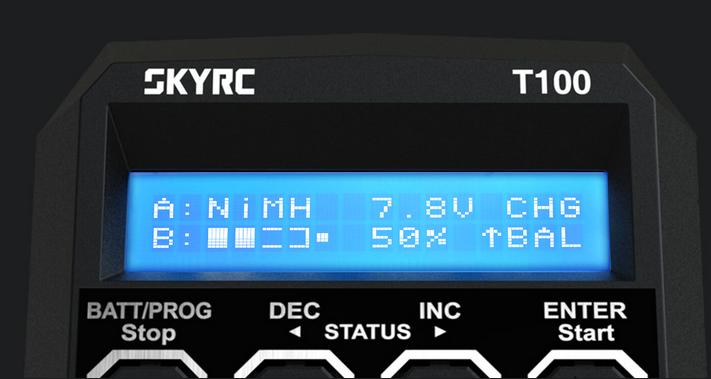 It's more intuitive to indicate the current real-time battery power with the battery icon and percentage of charge & discharge.
Two Channel's Data Can Be Displayed Simultaneously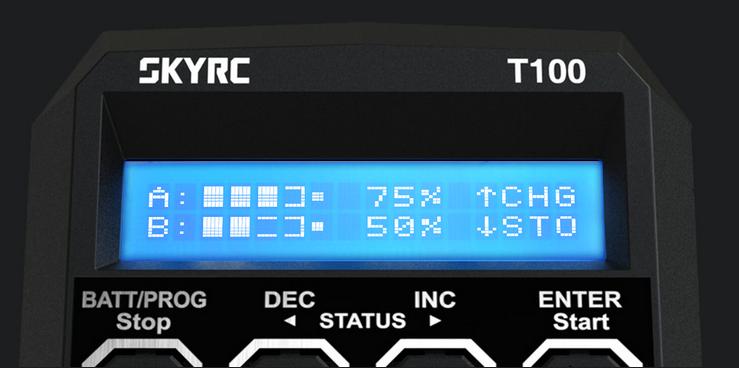 When the user is charging two batteries simultaneously, both the charging data will be started to display after the two channels have been working for ten seconds. And the user is only allowed to back to the working interface in the channel that started lastly with START/ENTER or channel switch button.
AGM & Cold Charge Modes for PB Battery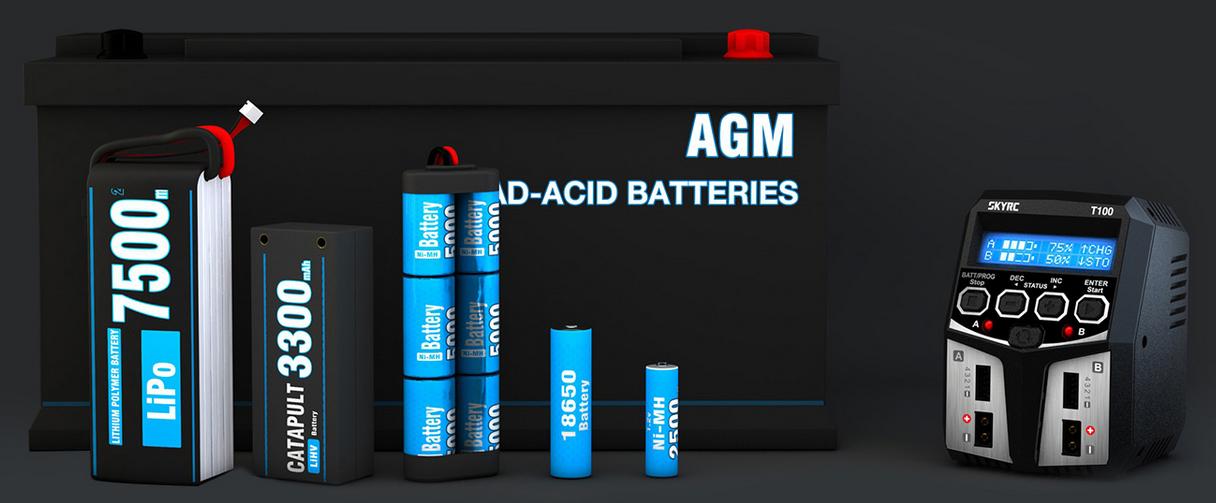 SkyRC T100 can charge AGM(Absorbent Glass Mat) )battery and also can be used for charging PB battery at very low temperatures.
Embedded XT60 Battery Connector
By embedding the XT60 battery connector in the charger, it gets more convenient & safe for charging the most popular battery with XT60 connector and avoid the possibilities of reverse polarity for it.
Belangrijke eigenschappen
2 independent charging channels
2x 50W charging power and maximum 5.0A charging current
High-contrast LCD display showing a battery icon and percentages now
3 decimals for battery voltage
10 Battery Memories
AGM and Pb Cold Charge Mode
Easy operation
XT-60 connector on charging output
Various security monitoring
Specificaties
| | |
| --- | --- |
| Input Voltage AC: | 100V – 240V |
| Charge Circuit Power max: | 2x 50W |
| Charge Current: | 0.1A – 5.0A |
| Balance Current max: | 300mA |
| Cell Count: LiPo/LiFe/LiIon/LiHV | 2s – 4s |
| Cell Count: NiMH/NiCd | 6s – 8s |
| Pb Voltage: | 6V – 12V |
| Weight: | 500g |
| Dimension: | 100x90x127mm |